PRESIDENT'S MESSAGE
As we move into November it's always a good time to reflect on how thankful we are. At our recent volunteer event we took the opportunity to express our thankfulness to our many wonderful volunteers. Pittsburgh PMI is run by volunteers and without the many volunteers who make our chapter run so smoothly we would be lost. I wanted to share a few pictures of the event with you and to send a special thank you to our board. Our board works hard to make the chapter the best it can be, and we all notice!
We have so many exciting things coming up for you in the next few months! First the PDD, which is always an amazing event and then our December chapter meeting, which will be in a new location. Finally, in 2020 we will be celebrating our 40th Anniversary. We are planning a chance for you to weigh in on Pittsburgh PMI's legacy, but I will share more on that next month.
Finally, I want to say how thankful we all are that you have chosen to be a member of our chapter!
Thanks,
Kim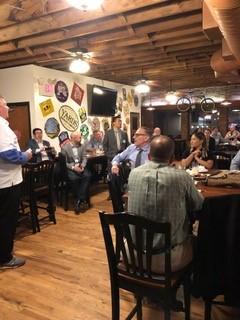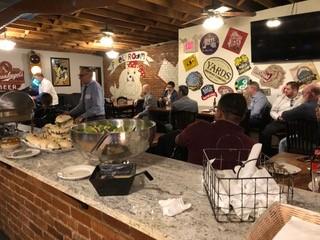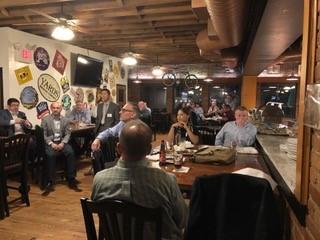 MEMBERSHIP
New Members 
We now have 1836 chapter members. A net increase of seventeen (17) members from last month. Welcome to our thirty-two (32) "New Members" for October 2019:
Mary Lu Adams, Muntaser Ayyash, Daniel Barbero, Alicia Blackburn, Reda Bouhaddid, Dean Brandt, Yinung Chiang, Thomas Croxford, Mary Doyle, Laurence Duvall, Grace Goodhew, Devon Hepburn, Daniel Hughes, Marisa Jackson, Amanda Jemmott, Santella Larson, Nicholas Leonzio, Chenxi Liu, Michael Lyon, Francesco Mantovani, Robert Mitchell, Ramesh Neupane, Arman Nomani, Keith Perkins, Lisa Perks, Kirstin Repco, Patricia Sargent, Michele Stengl, Britny Trainer, Ben Unpingco, Thomas Vehec, & Lan Yu.
New Credentials 
We now have 1352 PMI Credentials within our chapter membership. Congratulations to our new credential holders. Folks, that's nearly seventy-five (73.6%) of our current membership!
Outstanding!
Michael Carter, PMI-ACP, Amy Costner, PMP, Thomas Croxford, PMP, Lucas Foust, CAPM, Louis Frankel, PMP, Jennifer Grabowski, PMP, Lisa Grecco Pavlik, PMP, Devon Hepburn, CAPM, Lisa Knerr, PMP, Ramesh Neupane, PMP, Christine Prosser, PMP, Mohan Puri, PMP, Erik Rueter, PMI-ACP, Keith Williams, PMP.
Chapter Credentials:
Member Credential Count Summary October 2018
Credential
Credential Count
PMP
1,240
PMI_ACP
62
CAMP
30
PMI-RMP
11
PgMP
5
PMI-PBA
2
PMI-SP
2
Total
1,352
2019 Volunteer Appreciation Day 
PMI Pittsburgh Volunteer Appreciation Day is Wednesday, October 23, 2019. 
Our volunteer appreciation day was successfully held earlier this month at Roland's Seafood Grill.  We had a very good 'turn out' of the sixty-plus registrants who braved the road closures around the convention center to share a night of networking and fellowship. 
And a special recognition to Danielle Fitch, Director, MidState Satellite, who made the trip in from 'The Valley' to be with us AND to lock down a firm date for a joint "Johnstown/MidState" Mixer in April 2020!   And THAT'S how you get stuff done, Danielle!
Open Volunteer Positions: We had a very productive call with our primary technical contact for the VRMS system (Thank you, Jamie Lynn Gray!).  There are still a few issues that we are working through.  So, in the meantime, please continue to review the new & open volunteer positions within our instance of "Signup.com'.  Here is the link to our open positions:  Let me know if you have any questions!
The VRMS system should be fully operational by the end of November 2019.   The current delay is with Lou & the Volunteer Services team. I will keep you posted!
What's Happening within Membership & Volunteers 
PMI Mentor Program:  "The Bridge Builders*"  We are moving forward with the release of the new PMI Pittsburgh Mentor Program!   David Begis, PMP, has accepted the new position of 'Director of Mentorship' and will model his servant leadership to this role from his previous experiences with Westinghouse and Mitsubishi.   Welcome, David!
We will be creating the program goals & objectives, along with publishing the curriculum and supporting artifacts for our mentors and mentees.  Our first order of business is to get the PMI.org required disclosures and background checks approved by the PMI Pittsburgh Board of Directors, then submit our business plan to PMI Global.  We are working with PMI Global to create a safe and inclusive program for all our members.
We are considering the membership requirements for those that wish to be involved in the program.   The core curriculum of the program will be modeled after similar programs in other chapters.  Look for more information on the "PMI Pittsburgh Bridge Builders" in December.  All those interested in being a Mentor or Mentee are encouraged to participate in this exciting new offering within the PMI Pittsburgh Chapter.
'* Proposed name;  it may need to survive a copyright challenge!  /lcm'
Do you have questions about the Volunteer Recognition Program? Want to know how you can sign up to volunteer in 2019-20? 
*Contact Louis Martina, PMP, PMI-ACP - VP_Membership@pittsburghpmi.org